A casual comment that I am a Scouter during a conversation with Mr. Chuck Buck, Chairman of Buck Knives, led to the revelation that not only does Mr. Buck think that Scouting is a very worthwhile program but that Buck Knives offers a commemorative knife for Eagle Scouts.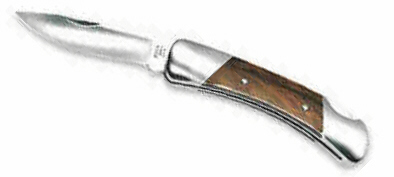 The knife that Buck offers for Eagles Scouts is a special variation of the Buck Model 500. The Model 500 is a lockback folding pocket knife with a 3 1/8" drop-point blade, wooden scales and nickel bolsters.
The Eagle Scout knives are customized with the Scout's name engraved on one bolster and the Eagle Scout emblem engraved on another. The Scout's troop number and the year or entire date of his Eagle Board of Review can be put on the other bolsters.
Buck sells the Eagle knife direct for $42 with no shipping charges added. This is quite a bargain as the Model 500 is no longer available for general sale but when it was it had a suggested retail price of over $60.
The Eagle Knife is a special sort of keepsake, not just one that sits on a shelf and collects dust but one that may be carried and used on a daily basis for the rest of the Eagle's life. This knife is not restricted to new Eagle Scouts, it would make a wonderful gift for an Eagle of any age.
To order an Eagle Scout Knife, please send an email (with your telephone number) to: factorystore@buckknives.com or call (800) 326-2825 ext. 0 (zero) and tell the receptionist that you want to order an Eagle Scout knife. Buck Knives is in the Pacific Time Zone so please do not call before 7am Pacific time.
Mail orders should be sent with a check payable to Buck Knives to:
Buck Knives, Inc.
Eagle Scout Knife Order
660 S. Lochsa St.
Post Falls, ID 83854
Please allow at least three weeks for delivery
Please note that I do not work for Buck Knives and, other than owning a number of Buck Knives, I am in no way connected to the company.
If you do order a knife, please return and let us know what you think in my guestbook..